The concept of business casual can often leave many scratching their heads. It's a dress code that strikes a balance between the traditional, buttoned-up corporate look and the relaxed vibe of casual wear. In this sartorial gray area, where does the humble t-shirt fit in? "Is a t-shirt allowed in business casual?" you might ask. The answer isn't straightforward, but we're here to unravel the threads of this modern-day wardrobe conundrum.
Unpacking the Business Casual Dress Code
The term 'business casual' conjures images of khaki pants, button-down shirts, and perhaps a smart cardigan. But as workplace norms evolve, so too does the definition of what's acceptable to wear. Business casual now represents a spectrum of attire, accommodating industries that value self-way to show off and comfort alongside professionalism.
The T-Shirt: A Contender in Business Casual?
In many contemporary office environments, the rigidity of dress codes has softened, giving way to more diverse interpretations of professional attire. Enter the t-shirt, a garment universally hailed for its comfort and simplicity. While t-shirts may have once been relegated to the realm of weekend wear, they're now stepping into the spotlight as potential players in the business casual game.
Knowing Your Workplace Wardrobe Rules
Each workplace is different, and the acceptance of t-shirts will vary. Some offices may embrace a t-shirt paired with a sharp blazer, while others might reserve them for 'Casual Fridays.' When in doubt, the safest bet is to take a conservative approach until you've gathered cues from your colleagues or sought advice from HR.
Read more: Can T-Shirts Be Copyrighted?
T-Shirts in the Business Casual Arena: A How-To Guide
So, can the t-shirt claim its stake in the business casual territory? Absolutely—but there's an art to it. Here's how you can integrate t-shirts into your business casual wardrobe without crossing the line from relaxed to ragged.
1. Fabric First: Quality Matters
The fabric of your t-shirt can make all the difference. High-quality materials like cotton, bamboo, or modal lend a sense of sophistication that their less refined counterparts lack. A well-made t-shirt can hold its own against more traditional business casual attire.
2. Subtlety in Branding: Less Is More
When it comes to logos and graphics, think minimalist. A small, discreet logo can add personality without overpowering your look. Anything too large or vibrant may tip the scales towards casual, so choose wisely.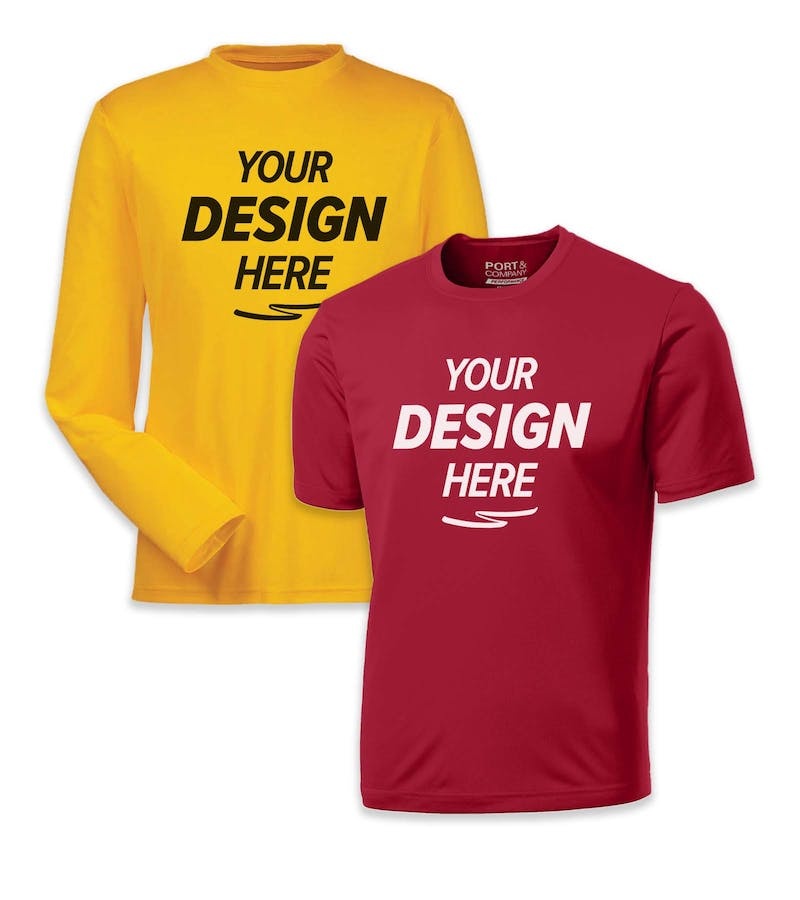 3. The Power of Layering
Layering is the secret weapon of the t-shirt aficionado. By adding a blazer or a tasteful cardigan, you transform the t-shirt from a casual staple to a business-appropriate garment. This combination can bridge the gap between comfort and class.
4. The Bottom Line: Pants Matter
To maintain the business casual ethos, pair your t-shirt with chinos or tailored slacks. Jeans, especially distressed ones, can undermine the professionalism you're aiming for.
5. Footwear Finishing Touches
Complete your ensemble with dress shoes or polished loafers. Footwear can often set the tone for your outfit, so let your shoes speak to your dedication to maintaining a professional image.
Read more: How to Start a T-Shirt Company With No Money (2024 Guide)
Ideal T-Shirts for the Business Casual Setting
While it's clear that not all t-shirts are created equal in the eyes of business casual, here are some examples that tick all the right boxes:
1. Classic Solids
A plain black or white t-shirt is the quintessential understated piece that pairs well with any business casual outfit.
2. Understated Branding
Opt for t-shirts with subtle logos or branding that won't distract from the overall sophistication of your look.
3. Neutral Territory
T-shirts in neutral colors like beige, navy, or gray are versatile and exude a quiet confidence.
4. Pattern Play
Stripes or plaids can add visual interest to your outfit without descending into casual chaos.
Ricardo Seco Shop: Trending T-Shirts for the Whole Family
When it comes to merging trends with the business casual aesthetic, Ricardo Seco Shop is ahead of the curve. Offering a curated collection of stylish t-shirts, they provide options that respect the boundaries of workplace attire while still allowing individual style to shine through. Their range of high-quality fabrics and designs that span from the classic to the contemporary make it a go-to destination for those looking to refresh their business casual wardrobe with t-shirts that mean business.
Whether you're looking for a subdued color palette for your next board meeting or a t-shirt with just the right amount of flair for a work social, Ricardo Seco Shop has something for everyone. With offerings for men, women, and children, the whole family can experience the convergence of comfort and professional chic.
In the next section, we will continue to jump into into the nuanced world of business casual attire, examining how to navigate workplace fashion with ease, and showcasing how Ricardo Seco Shop's collection fits easyly into this dress code paradigm.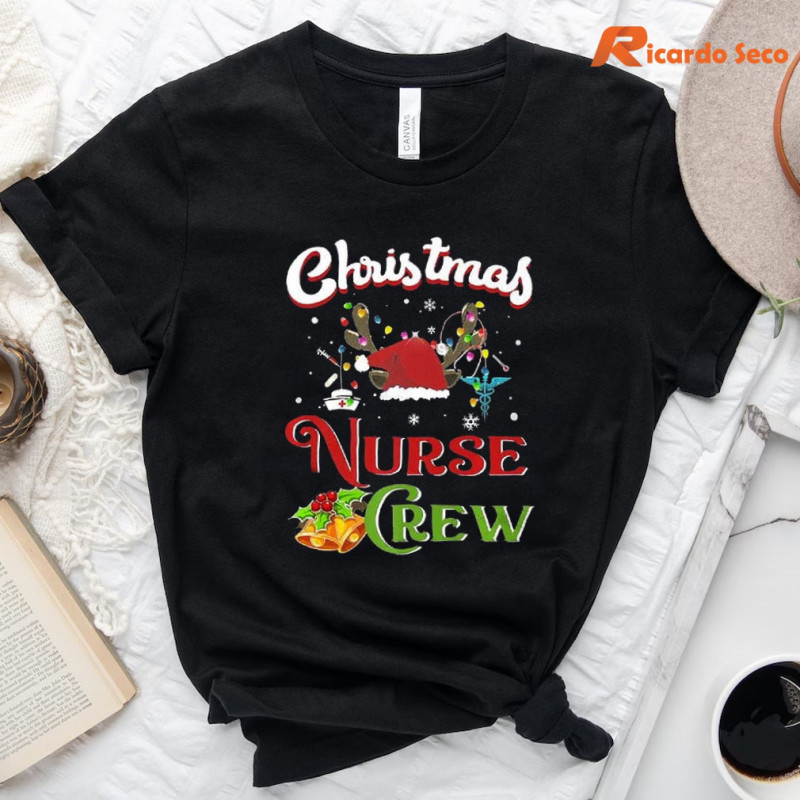 Business Casual: T-Shirt Dos and Don'ts
Navigating the business casual dress code requires a keen sense of what's acceptable and what's not. Here's a deeper dive into the dos and don'ts of incorporating t-shirts into a business casual wardrobe:
Dos:
Do consider the fit: A well-fitted t-shirt can look sleek and professional. It should be snug but not tight, flattering your body without being restrictive.
Do pay attention to condition: T-shirts should be free of wrinkles, stains, and signs of wear. A pristine t-shirt sends a message of attentiveness and respect for your workplace.
Do tailor your choice to your industry: Creative fields may allow for more flexibility in terms of colors and patterns, while traditional sectors might prefer the classic simplicity of a solid-colored tee.
Don'ts:
Don't go too casual: Steer clear of t-shirts that resemble gym wear or beach attire. Business casual t-shirts should still lean towards the 'business' end of the spectrum.
Don't overlook the context: While a t-shirt may be suitable for a day at the office, it might not be the right choice for a client meeting or a professional event.
Don't forget to accessorize smartly: Accessories should complement the t-shirt, not overshadow it. A tasteful watch or a subtle necklace can enhance your business casual look.
Curating Your Business Casual Wardrobe with Ricardo Seco Shop
Ricardo Seco Shop not only provides t-shirts that align with the business casual dress code, but they also offer a complete package that can help you curate your entire wardrobe.
The Workweek Essentials
The shop's range includes an array of options that serve as perfect base layers for your workweek outfits. From the understated elegance of a black tee to the subtle sophistication of a pinstriped option, these t-shirts serve as a versatile foundation for a variety of looks.
The Friday Flex
If you get workplaces that embrace a more relaxed vibe as the weekend approaches, Ricardo Seco Shop's graphic tees and vintage-inspired options can add a dash of personality to your Friday attire. These t-shirts maintain a professional edge while celebrating the casual spirit of Friday.
Family-Friendly Finds
Not only do they cater to the individual professional, but Ricardo Seco Shop also offers family tees that allow for coordinated looks. Whether for a casual work event or a family outing that might include a stop at the office, these t-shirts keep everyone looking sharp.
Read more: HOW MUCH DOES IT COST TO PRODUCE 1 T-SHIRT?
Business Casual Beyond the T-Shirt: A Complete Look
To fully embrace the business casual aesthetic, consider how a t-shirt integrates with your overall attire:
Blazers and Jackets
Pairing a t-shirt with a blazer or a tailored jacket instantly elevates the look, blending casual comfort with a structured, professional edge.
Skirts and Slacks
For a feminine twist, pairing a t-shirt with a pencil skirt maintains professionalism while adding comfort. Alternatively, slacks offer a gender-neutral option that complements the t-shirt's simplicity.
Accessorizing to Impress
While the t-shirt keeps things grounded, accessories can signal your commitment to the business aspect of business casual. A leather belt, a shout-out watch, or a pair of elegant earrings can round out your look beautifully.
Read more: What is the Typical T-Shirt Size Distribution? | Ricardo Seco Shop
Conclusion: T-Shirts in the Business Casual World
The question "Is a t-shirt allowed in business casual?" opens up a discussion about the evolving nature of workplace attire. With the right approach, t-shirts can indeed find a home within the business casual framework. It's about choosing quality fabrics, maintaining a professional look, and understanding the culture of your workplace.
Ricardo Seco Shop offers a collection that meets these needs, proving that t-shirts can be both comfortable and suitable for the modern professional environment. As the boundaries of traditional office attire continue to expand, t-shirts stand out as a versatile and viable option for those looking to strike a balance between casual comfort and professional polish.
By paying attention to the nuances of business casual and selecting the right pieces from trusted sources like Ricardo Seco Shop, you can confidently wear t-shirts as part of your work wardrobe. Whether you're dressing for success or comfort—or a blend of both—the modern t-shirt can be a dynamic and stylish choice for the contemporary professional.
Поделиться

добавить в избранное